SF State Summer Kids Camp remains closed until further notice. The content below is provided as a means of relaying information on the program, but we hope to open again when it is safe to do so.
Welcome and thank you for choosing San Francisco State Kids Camp. 
Let's get started!
Mission: San Francisco State Kid's Camp mission is to provide a safe and high-quality summer experience that engages campers with recreation, field trips, and other interactive learning activities. Our diverse programming will educate at a beginner level, the dimensions of health and wellness is a fun summer environment.
Safety: Safety is our #1 priority and before programming our activities. We promise to maintain a camper to counselor ratio lower than the legal requirement, which guarantee your camper is getting the attention they deserve. Our team is trained and expected to perform frequent headcounts during all our events. We also tailor each activity to various age groups, ensuring no camper gets left behind no matter their age, interest, or size.
Wellness: As a wellness center-based camp, we strive to keep kids moving. We pride ourselves on producing new, invigorating ways to stay active! We know we have done our jobs when your camper is happy and tired by the end of the day.
Diverse programming: Campers benefit from diverse experiences and educational opportunities while under the supervision of diverse counselors. Our pre-planned activities keep campers busy and engages throughout their time as an SF State Kids Camp Camper.
Purple, Gold & Jr. Gators!
We separate campers by age groups in order to create appropriate activities and lessons.
Camp Purple: 5-6 years old
Camp Gold: 7-8 years old
Camp Jr. Gators: 9-11 years old
Registration
Registrations typically open in February but are currently closed until further notice.
Prices:
SF State Affiliates (students, staff/faculty, alumni): $300 per camper, per week
Community Members (non-affiliates): $325 per camper, per week
Schedule of Events and Daily Schedule:
There will be plenty to do for your camper from fun field trips to arts and craft activities, our campers are not going to be bored. If you're interested in a sample of what your camper can expect during their time in the program, feel free to check out a sample schedule of events from last year's camp here! You can also check out the daily schedule for an idea as to how a day goes at camp. 
Extended Care:
Extended care can be purchased in-person at the Mashouf Wellness Center Front Desk or an appointment can be made with the student managers (crdcamp@mail.sfsu.edu). In order to purchase extended care, you must submit your payment by 2:00pm, the Friday before the week your camper attends. This will allow us to schedule our staff accordingly. 
Hours and Pricing:
Early Care: 7:30am-9:00am
After Care: 5:00pm-6:00pm
Steps to Register:
IF YOU ARE AN SF STATE STUDENT/FACULTY/STAFF/ALUMNI AND DO NOT SEE THE CORRECT PRICE WHILE SIGNING UP PLEASE REACH OUT TO crdcamp@mail.sfsu.edu 
 
PART 1 (Skip part 1 if you already have a SF State ID #)
Step 1: Go to the Campus Recreation Member Portal
Step 2: Click "Log In" on the upper right corner
Step 3: Under "Sponsored Members"
Click "Sign Up if you don't have a local account."
 
Step 4: Proceed to fill out the Registration Prompt for a new user account.
Click "Register" on the bottom of the page
 
Step 5: Activate your new user account through your email that you provided. 
PART 2
Step 1: Log onto the Campus Recreation Member Portal with your existing or new user account
Step 2: Add your campers as "Dependents" in your profile. (Note: Registration will not work without adding dependents due to the age restriction)
Step 3: Click "Programs", 
Select "Summer 2020" under semesters. and then select "Summer kids Camp" under classification. 
 
Step 4: Click "Register" for specific weeks you want to register your child for
When selecting a certain week, a pop-up box will appear asking to add dependents. (please note: you can only select one dependent per registration).
 
** If you are registering more than one child for the same week, please note that each child must be registered individually per week. ** 
About Our Staff
All our counselors are matriculating San Francisco State Students deriving from varying areas and study an array of topics offered by the University. Diversity amongst counselors guarantees an innovative, well-rounded program for campers.
Counselors are set-up for success because they are required to participate in 40 hours of intensive program training. During the training process, counselors will be discussing all the aspects of camp, including, but limited to safety, risk managements, activity programming, and how to use our Wellness Facility to its fullest potential. Our entire staff are CPR, First Aid, and AED certified. Beginning in Summer 2020, staff will also be required to have a Food Serve Certification.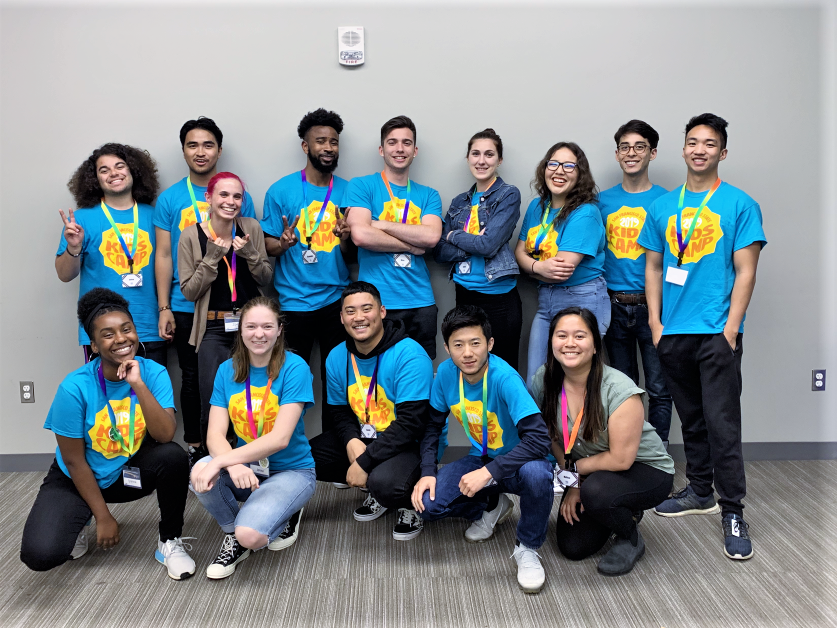 Meals
For all campers, supervised lunch is between 12:00pm-1:30pm. Lunch is not included in the camp so please pack a lunch. Please refrain from packing nuts for your child due to severe nut allergies of other children. Starting in Summer 2020, there is an optional morning snack from 9:30am-10:00am. We will be serving fruits and cheerios in Classroom 205 during that allotted time period. Please pack you camper snacks as you see fit.
To view PDF files, download Adobe Reader