Spring 2023 Details: 
Date: Sunday, April 15th, 2023
Check-in: 8:00am - 8:45am
Walk, Run, & Roll Official Start: 9:00 a.m. in Malcolm X Plaza
Challenge overview 
Show your gator pride at SF State's 7th annual 5K Walk, Run, Roll on April 15th at the Malcolm X Plaza! Be active and have fun with fellow SF State students, faculty/staff/alumni, and friends in this 5K around campus!
Interested race participants are encouraged to sign up online below ahead of the event.  Onsite registration will be available until 8:30 a.m. on the day of the event for individuals only.  All registered participants will receive a complimentary gift bag. The first 100 registrants will also receive a FREE event t-shirt.
How to enter: 
Individual Participant Registration Information
To sign up as an individual participant for the SF State 5K Walk, Run & Roll click on the "Register" link below and complete all required information.
SF State Student: $10.00
SF State Faculty, Staff or Alumni: $15.00
Community Member: $20.00
Team Registration Information
Teams must consist of four people. The team captain should submit the online registration for all team members at one time. Contact information for all team members must be provided by the captain when completing the registration form below. Teams will receive a $5.00 discount from the team's total cost based upon each individual team member's entry fees.
SF State Student Team: $35.00
SF State Faculty, Staff or Alumni Team: $55.00
Community Member Team: $75.00 Top of Form
Awards & Prizes: 
An award will be given to the first individual to cross the finish line in each of the above registration categories.
Prize: TBD
Campus Rec aims to provide a welcoming and inclusive environment. If there are any questions, comments, or concerns regarding Awards & Prizes, please contact spevents@mail.sfsu.edu.  
Digital map of 5k Route: 
Missing SF State just as much as we are? Try running our new 5k route while practicing our health and safety tips on the next slide!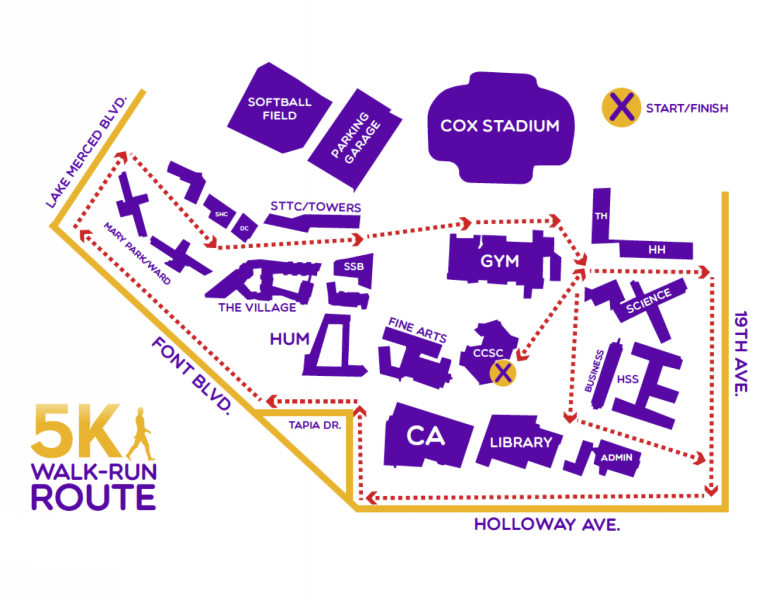 Disability Accommodations 
To request disability accommodations for the event, please contact spevents@mail.sfsu.edu, at least two weeks prior to the event.
Health/Safety Tips: 
Practice social distancing and remain at least 6 feet apart from the closest runner to you
If you see another runner coming towards you, try crossing the street if it is empty
Avoid touching your face, specifically your eyes, nose, and mouth
Bring a washable cloth with you to wipe away any sweat
Wear something with pockets so that you avoid touching your phone as much as possible while working out; bacteria from items you may have touched can transfer onto your phone
Avoid touching streetlight or crosswalk poles if you can
Use a reusable water bottle to avoid public water fountains
Leave your running shoes outside of your living space
Shower immediately after your work out and place your clothes in the washer or your hamper for washing
Liability Waiver
Each race participant will be required to complete a liability waiver the day of the event.  To expedite your registration that morning, please print and sign a copy of the event liability waiver and bring it with you on April 19th.  Anyone under the age of 18, must have a parent/guardian signature to participate.
Liability Waiver (Coming Soon)
Volunteer Information
Join in the fun as an event volunteer. We are in need of students, faculty, and staff to assist with event needs such as set up, breakdown, on-site registration and to serve as route monitors cheering on the participants as they race around campus. You can volunteer as an individual or in a group with your friends. This is a great way to be a part of the action, support Student Life, and earn community service hours if needed.
Helpful Running Apps: 
Run Keeper – GPS Tracker 
Pros: 
Audio updates while you run 
Keeps track of progress and personal record
You can start a running group to achieve goals together 
Running Distance Tracking Pro 
Pros: 
Included access to music player 
Voice feedback guiding you as you run towards your target distance/time 
 
Pacer Pedometer and Step Tracker 
Pros: 
Helps discover different routes around your area, wherever you are 
Includes fun challenges for you to complete 
Tracks your activity and steps all day long 
Adidas Running App 
Pros: 
Shoe tracking specifically tailored towards adidas 
Includes training plan and tracks your statistics 
Your friends can cheer you on live while you're working out through the app 
Parking Information: 
For parking information upon your arrival to campus please visit https://parking.sfsu.edu/.