Gator-Wild is a 6-day, 5-night wilderness-based experience program designed to provide incoming first year and transfer students with a warm outdoor welcome into the SF State Gator Family. Gator-Wild offers students a chance to build connections and community with other incoming students and faculty and staff on small group expeditions, while exploring the Sierra Nevada before stepping foot in the classroom.  Come experience SF States Historic Sierra Nevada Field Campus, while making new friends and gaining confidence in yourself.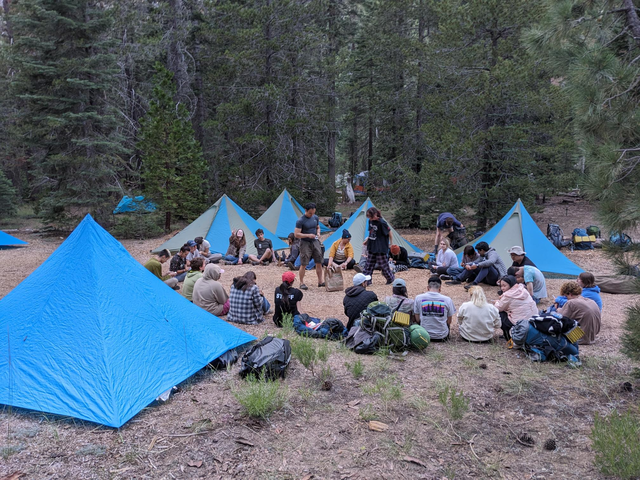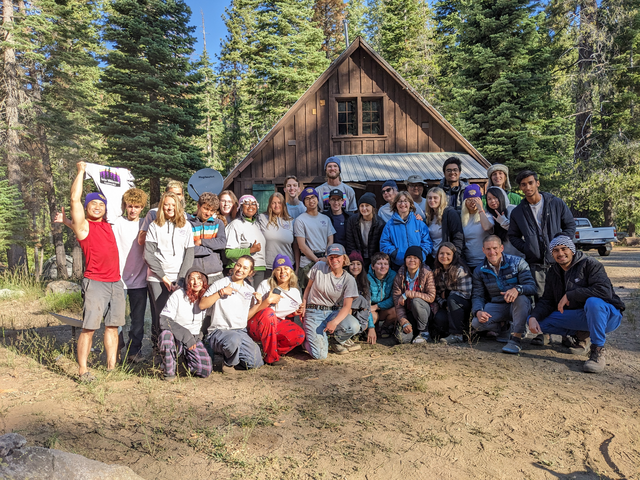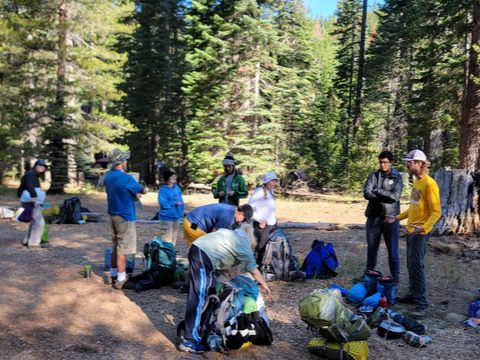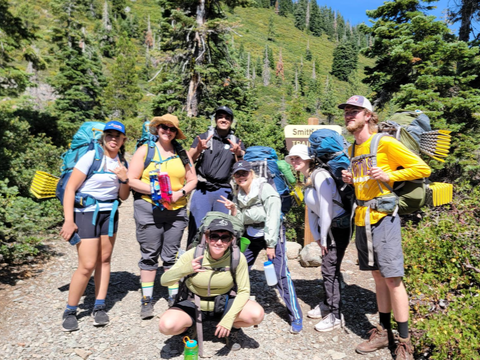 Trip Information (Fall 2024 Schedule Coming Soon)
Schedule
Day 1: Sunday, August 6th, 2023
Students and families arrive at SF State and move into residence halls.  Students that are not living in a residence hall will not need to arrive until the start of the Tailgate BBQ in the afternoon.
Tailgate BBQ in afternoon to meet Trip Leaders, Staff, and Faculty.
Farewell to families as students join their small group teams before participating in larger group activities for the remainder of the evening.
Large group dinner.
Participants stay in their respective residence halls/apartments for the evening.
Day 2: Monday, August 7th, 2023
Breakfast served at the Mashouf Wellness Center.
Final preparation for the Sierra Nevada Field Campus (SNFC).
Lunch provided prior to heading to SNFC by van.
Arrive to SNFC and introduction to field campus.
Dinner at SNFC followed by large group activities.
Camp at SNFC for the night. 
Day 3 - 5: Tuesday - Thursday, August 8th - August 10th, 2023
Breakfast at SNFC.
Participants set off on small group expeditions for 3 days, 2 nights exploring the nearby trails in the Sierra Nevada.
Participants return to SNFC on Thursday to hot showers and dinner before participating in large group activities.
Camp at SNFC for the night. 
Day 6: Friday, August 11th, 2023
Breakfast at SNFC and make a road lunch. 
Final goodbye to the SNFC Staff.
Depart back to SF State to join the rest of campus at the start of Welcome Week
having new connections, friends, confidence & memories.
Equipment List
Essential Items:
(1) pair durable lightweight hiking boots
(2-3) pair wool/synthetic socks
Underwear bottoms
(1) wool/fleece or non-cotton sweater
(1 to 2) synthetic, non-cotton t-shirts
(1 to 2) synthetic non-cotton long sleeve shirts
(1) wind shell layer (lightweight)
(1) set of rain gear (top & bottom - durable waterproof material)
(1 to 2) pair lightweight synthetic hiking pants (no jeans or sweatpants)
(1 to 2) pair of lightweight, fast-drying shorts (no cotton)
(1) warm hat (wool or fleece; yes, it can get cold)
(1) pair of lightweight wool/fleece gloves
(1) brimmed sun hat or baseball cap
(1) sleeping bag w/compression sac (not bulky)
(1) sleeping pad – Ensolite or Thermarest (not bulky)
Sunscreen
Insect repellant
Lip balm w/ SPF
Toiletry kit (travel size - toothpaste, toothbrush, prescription meds, hand sanitizer, feminine hygiene products)
Cup, bowl and spoon (small, lightweight & durable)
(2) one-liter wide-mouth water bottles (i.e., Nalgene)
(1) headlamp with extra batteries
(1) whistle
(2) bandanas (useful for many things in the outdoors)
(2) large garbage size trash bags
Pen, pencil, small notebook, journal, etc.
Additional clothing & items for in camp: (jeans are okay while at the SNFC)
Pack or duffle bag (a backpack will be provided for small group expeditions)
Personal hygiene for after course - towel, shampoo, soap, etc. (travel size)
Pertinent Medications
Optional:
Small pack towel
Sunglasses
Small Camera
Note:  No alcohol or drugs. Questions?  Please ask!
Frequently Asked Questions
Orientation covers the information regarding academics and resources that are available for the students for a successful journey throughout their years at SF State. In contrast, Gator-Wild is a program designed for the students to get acquainted with other peer incoming students through a wilderness experience and encourage a fresh start to academic life at SF State.
Gator-Wild is 6 days, the 5-night program will be starting a week before Welcome Week in Fall 2023.  The next program will take place August 6-August 11.
Gator Wilderness Experience costs $250 per participant.
We will offer scholarship opportunities who decide to enroll in the Gator-Wild program. Those who applied for a scholarship upon registration to help cover the cost of the Gator-Wild program will receive an email congratulating your award in addition to your new total owed.  You do not have to fill out another application if you have already submitted one online.
No, you don't need to have a prior camping experience for the program.  The experience is geared for the beginner and all skill levels are welcome.  
San Francisco State University's Sierra Nevada Field Campus (SNFC) is set at 5500', near the spectacular Sierra Buttes and Lakes Basin, a short drive from Sierra Valley.  The North Yuba River flows through the campus, treating visitors to glimpses of river otters, American Dippers and a myriad of other local inhabitants. The campus has been in existence since the 1950s and has been dedicated to promoting an understanding and appreciation of the biological diversity, geosciences, hydrology, astronomy, plein air art, and outdoor recreation to both students, faculty and staff as well as the general public.  Students should expect rustic accommodations, open air restrooms/showers, tent platforms and tasty meals.  The SNFC is where you are immersed in one of the most beautiful, diverse, and wild regions of the northern Sierra Nevada.  Please visit https://sierra.sfsu.edu/ for more information.
Our trip leaders are some of our best trained student leaders at San Francisco State who have plenty of experience with both the planning and leading of outdoor trips and hold a variety of certifications in Wilderness Medicine.  Additionally, Gator-Wild is facilitated by a fulltime staff Coordinator and Student Manager and will have other SF State faculty and staff assisting the program.
Enrolled participants will receive a welcome letter before the program start date regarding all necessary information about equipment and what to expect prior to arriving for GWE.