Want to learn how to swim or to refine your swim strokes? Then taking swim lessons provided by the Aquatics program is the place to go! Located in the natatorium of the Mashouf Wellness Center, we are currently rebuilding our swim lesson program in order to meet the needs of our students as well as teach a life-long skill.
Our instructors are Red Cross Lifeguard certified and have trained to teach lessons to the best of their abilities. The program can't wait for lessons to start again, and it is all thanks to you! If you have any more questions regarding the lessons, feel free to reach out to the Swim Lesson Management staff at swimlesson@mail.sfsu.edu and they will reach out to help you with whatever you need! Thank you all so much for participating and we are excited to see you soon!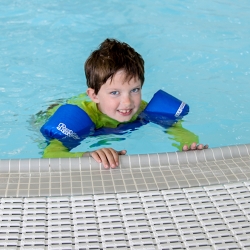 Adult Lessons:
Whether you are a beginner, experienced, or professional, our swim instructors at SFSU are trained to run a lesson tailored to any needs. We offer lessons to those of all ages and abilities and will provide the knowledge needed from basic water safety all the way to stroke refinement. We are here to ensure all people, no matter the experience, will feel comfortable in and around aquatic environments. Lessons are available during the weekdays.
Youth Lessons:
By offering lessons to the smallest fishes to the largest sharks in the pool, SFSU is capable of assuring child safety while also providing a fun and engaging learning environment. Children will understand the importance of water safety as well as learning how to swim better than the meanest fishes out there. We provide lessons to all children including those with special needs and abilities. Private lessons are one on one's with the student and instructor and Semi-Privates are no more than two students per instructor.  Group, private, and semi-private lessons are available on weekends only.
Session Dates:
Session 1: March 4, 5, 11, 12 
Session 2: April 1, 2, 15, 16
Session 3: April 22, 23, 29, 30
Options:
9:10 a.m. to 9:40 a.m. - Private
9:50 a.m. to 10:20 a.m. - Private
10:30 a.m. to 11 a.m. - Private
11:10 a.m. to 11:40 a.m. - Private
11:50 a.m. to 12:20 p.m. - Private
Have a question about our Swim Lessons, please visit our FAQ page. Any additional questions, comments or concerns regarding Swim Lessons may be directed towards our Swim Lessons Student Managers at swimlesson@mail.sfsu.edu.