Fall into Fitness with SF State's Campus Recreation Department! Join us for an exciting lineup of group fitness classes that will keep you energized, motivated, and ready to conquer the season. From heart-pounding cardio to zen-inducing yoga, we've got something for everyone. Don't miss out on the fun – let's embrace the fall vibes while staying active together. Your journey to a stronger, healthier you starts here!
Our Group fitness classes are instructor-led workout sessions that involve a group of participants performing exercises together. These classes are held in our wonderful fitness studios and include a wide range of activities such as Aerobics, Zumba®, Yoga, Strength training, Cycling, and more. Group fitness classes can be a great way to stay motivated, meet new people, and achieve fitness goals in a supportive and fun environment.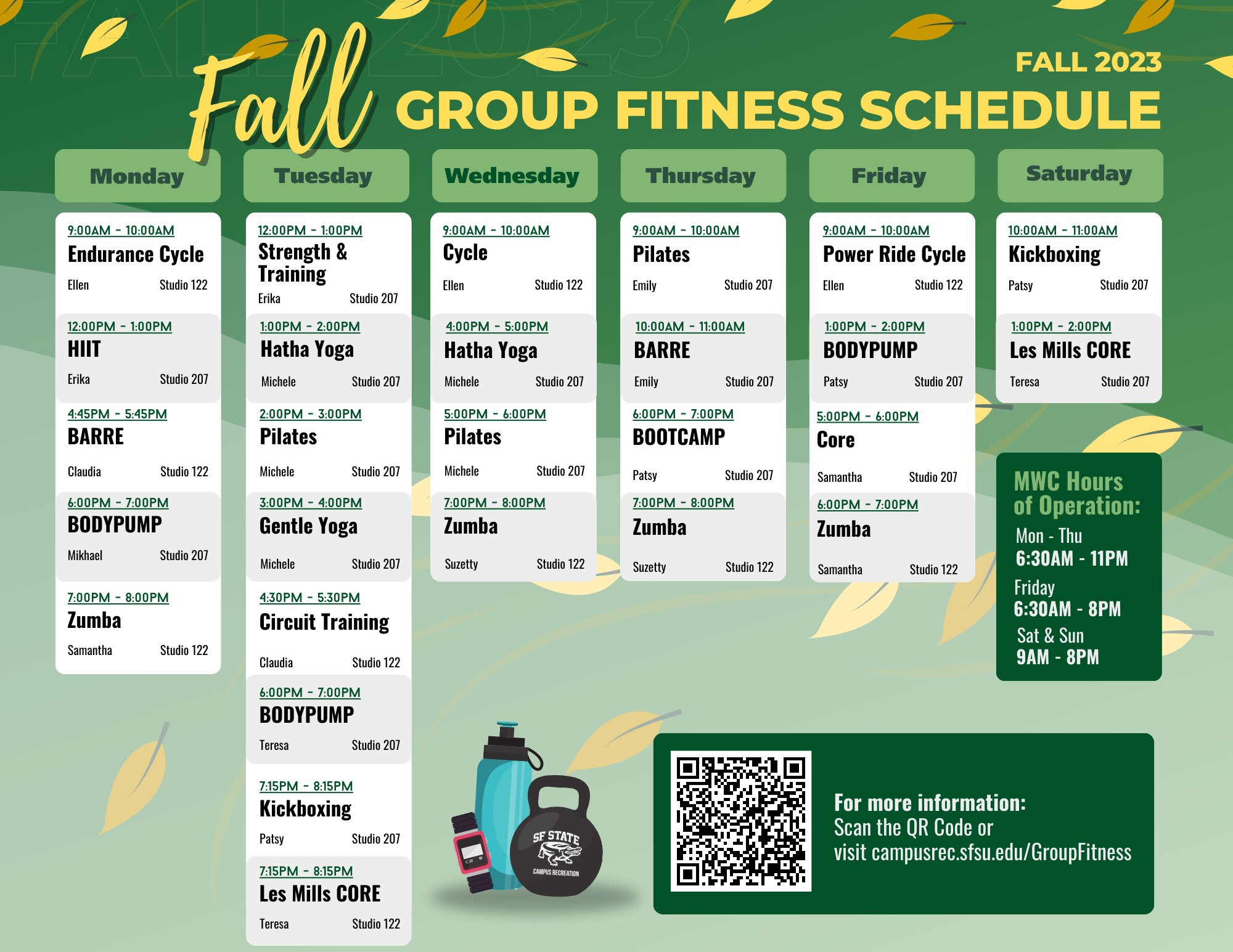 Getting Started: 
Meet your Group Fitness Instructors.
Don't know what a class has to offer? Check out our Course Description page!
How to Sign-up for Group Fitness classes:
To sign-up for a Group Fitness class please follow these steps:
Sign-in to the Member Portal at https://member.campusrec.sfsu.edu/
Click on the tab at the top left
Click on Group Fitness
Click on the class format you wish to register for
Find the date and time and click "Register" 
Click Checkout and "Yes" if you are ready to proceed
Click "Confirmation" to see a PDF Confirmation
Group Fitness Class Registration will open ONE WEEK before class time.  
The Group Exercise Department utilizes a 10-minute rule, any person who is more than 10 minutes late will not be allowed into class.
*Please visit our social media platforms for the most up-to-date Group Fitness schedule
Group Fitness Freebies
Free online workouts can be found here: https://watch.lesmillsondemand.com/free-content
Registration
To get into the class you must register in member portal. Registration opens 7 days before class starts, and you can register at any time. Arrive early to class because there is a 10-minute check in window. You will not be allowed into class if you are 5 or more minutes late. If you are late, your spot will be given to someone on the waitlist.
Waitlist Available
If you were unable to register for a group fitness class due to a full class, you can join our waitlist. Come 10 mins before the class and check in with instructor/ fitness floor staff to be added to the waitlist. Folks on the waitlist must be in person. You will be added to the class 1min before class starts if there is room.
Cancellation Policy
If you are unable to come to class, please cancel your registration at least 24 hours in advance. Since we have limited spots available, cancelling your registration allows more spots available for people who want to attend the class. If you forget to cancel/no-show twice you will not be allowed to register and secure a spot in class for 2 weeks. Due to not being able to register online, if you want to attend a class you will have to come to MWC and join the in-person waitlist. How to cancel a registration: Video Link
Accommodations
We welcome anyone and Every(body) to participate in our Group Fitness programs. If you need any accommodations, please arrive early to discuss with the group fitness instructor. Also feel free to email groupx@mail.sfsu.edu.
Group Fitness classes are open to all students and staff with an active membership to the Mashouf Wellness Center.  
Group Fitness Bonus Videos