NOTICE: Due to the Natatorium closure, all scheduled events will be held at the Gymnasium Pool. The information below will remain as a means of relaying information on the activities and events, but we hope to host them again when our Natatorium re-opens. We apologize for the inconvenience this may cause and hope to reopen as soon as possible. Any questions, comments, or concerns can be directed to our Aquatics Operations Student Managers at aquatics@mail.sfsu.edu 
Most of our scheduled events this semester will be held at the Gymnasium. Visit the Natatorium Information Page for a map with an ideal route to the Gymnasium in case you are not familiar with its location on campus or how to get to it from the Mashouf Wellness Center. 
The Aquatics department is host to a range of fun events and activities. From pool parties to Dive-In Movies, we got all your aquatics needs covered. Check below for a quick glimpse at some of the events and activities we host or check the Aquatics tab in the Navigation Bar above for more information.
The Gymnasium Pool
Pinch hitting for our Natatorium while it's being repaired is our wonderful Gymnasium Pool. Located in Gym 121, the pool features 6 lanes for your swimming pleasure at a total length of 25 feet. Depth ranges between 3 feet and 10 feet with an ADA compliant chair on deck. So, what are you waiting for, let's go swimming! 
Hours of Operation:
Monday - Friday: 2 P.M. - 8 P.M. 
To learn more, visit the Natatorium Info Page!
Fun Events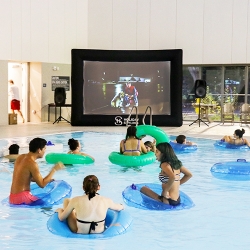 Dive In Movies
The Silver Screen comes to the Natatorium every second Thursday of the month! Float with us into the natatorium and watch some of the most popular or student requested movies on a giant screen as you relax in the Activity pool while enjoying a good movie with your friends!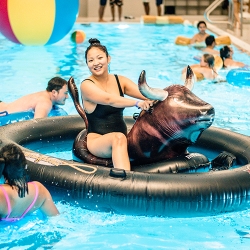 Inflatable Fridays
What do you get when you mix inflatable pool toys, a handful of your best friends and our Activity Pool on a Friday afternoon? Inflatable Fridays is just that! Get together with your friends or better yet, make new friends and have some fun at our activity pool, we'll handle the inflatables.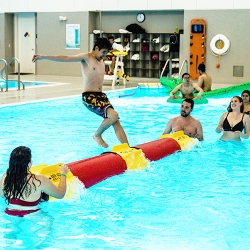 Key Log Rolling
A Lumberjack's wildest dream, Key Log rolling involves two competitors, each on one end of a free-floating log in a body of water. The athletes battle to stay on the log by sprinting, kicking the log, and using a variety of techniques as they attempt to cause the opponent to fall off. Think you have what it takes?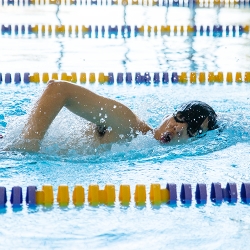 100-mile Swim Club
Become a part of our 100-mile swim club and swim 100 miles in 12 months! All swim styles and techniques are welcome! The technique is not a priority, just the distance! Simply keep track of your miles after each swim.
Swimming Lessons
Want to learn how to swim or to refine your swim strokes? Then taking swim lessons provided by the Aquatics program is the place to go! Located in the natatorium of the Mashouf Wellness Center, we are currently rebuilding our swim lesson program in order to meet the needs of our students as well as teach a life-long skill. Our instructors are Red Cross Lifeguard certified and have trained to teach lessons to the best of their abilities. The program can't wait for lessons to start again, and it is all thanks to you! If you have any more questions regarding the lessons, feel free to reach out to the Swim Lesson Management staff at swimlesson@mail.sfsu.edu and they will reach out to help you with whatever you need! Thank you all so much for participating and we are excited to see you soon!
To learn more about swim lessons, check out our Swimming Lessons Information Page!
 
Lifeguard Training
Purpose
The primary purpose of the American Red Cross Lifeguarding course is to provide entry-level lifeguard participants with the knowledge and skills to prevent, recognize and respond to aquatic emergencies and to provide professional-level care for breathing and cardiac emergencies, injuries and sudden illnesses until emergency medical services (EMS) personnel take over. This program offers a choice of Lifeguarding/First Aid/CPR/AED courses to meet the various training needs of a diverse audience. 
To learn more about our Lifeguard Training Program, Check out our Lifeguard Training Info Page!
Already certified? Apply for a lifeguard position here at the MWC by visiting our Employment Page