Campus Recreation encourages members to indulge in the ultimate relaxation experience with our massage therapy sessions. Our licensed massage therapists use a variety of techniques to target your specific areas of tension and promote overall well-being. From deep tissue to hot stone massages, we have something for everyone. Escape the stresses of daily life and let us help you rejuvenate your mind and body. Book your massage session today and experience the healing power of touch.
Note: you must be a registered Mashouf Wellness Center member to purchase and book a massage with us.
Massage Appointment Availability - Fall 2023
Starting Monday September 4th:
Tuesday: 12pm - 4pm
Thursday: 12pm - 4pm
About your Massage Therapist
Kae Williams received their certification in both Massage Therapy and Health Education at the National Holistic Institute. Specializing in Neuromuscular therapy, Kae includes sound healing to facilitate healing.
Types of Massages
Neuromuscular Therapy - A key focus is to improve the root issue of muscle fatigue. Utilizing traditional methods of Swedish massage, Shiatsu massage, and the discovery of possible trigger points structure a detailed muscle therapy experience. By applying light to moderate pressure, stretching and warming techniques can be used to encourage muscle activity to relax. The goal is to bring mindfulness to the client's current muscle condition to compliment daily body mechanics, reduce muscle stress and chance of injury.
Pricing
Students: $40 for 45 minutes
Staff: $70 for 45 minutes
Registration Details:
How to Book Your Massage:
Log into the member portal using your SFSU credentials
Scroll down to the Massage Therapy icon
Register for a date and time, sign the waiver, and pay!
Where is the Massage Therapy Room located? 
Below is a map of the Fitness Floor or 1st floor of the Mashouf Wellness Center with a highlighted route to the Massage Therapy Room. If you need help finding your way, feel free to ask any one of our staff members for directions and we will be happy to help you.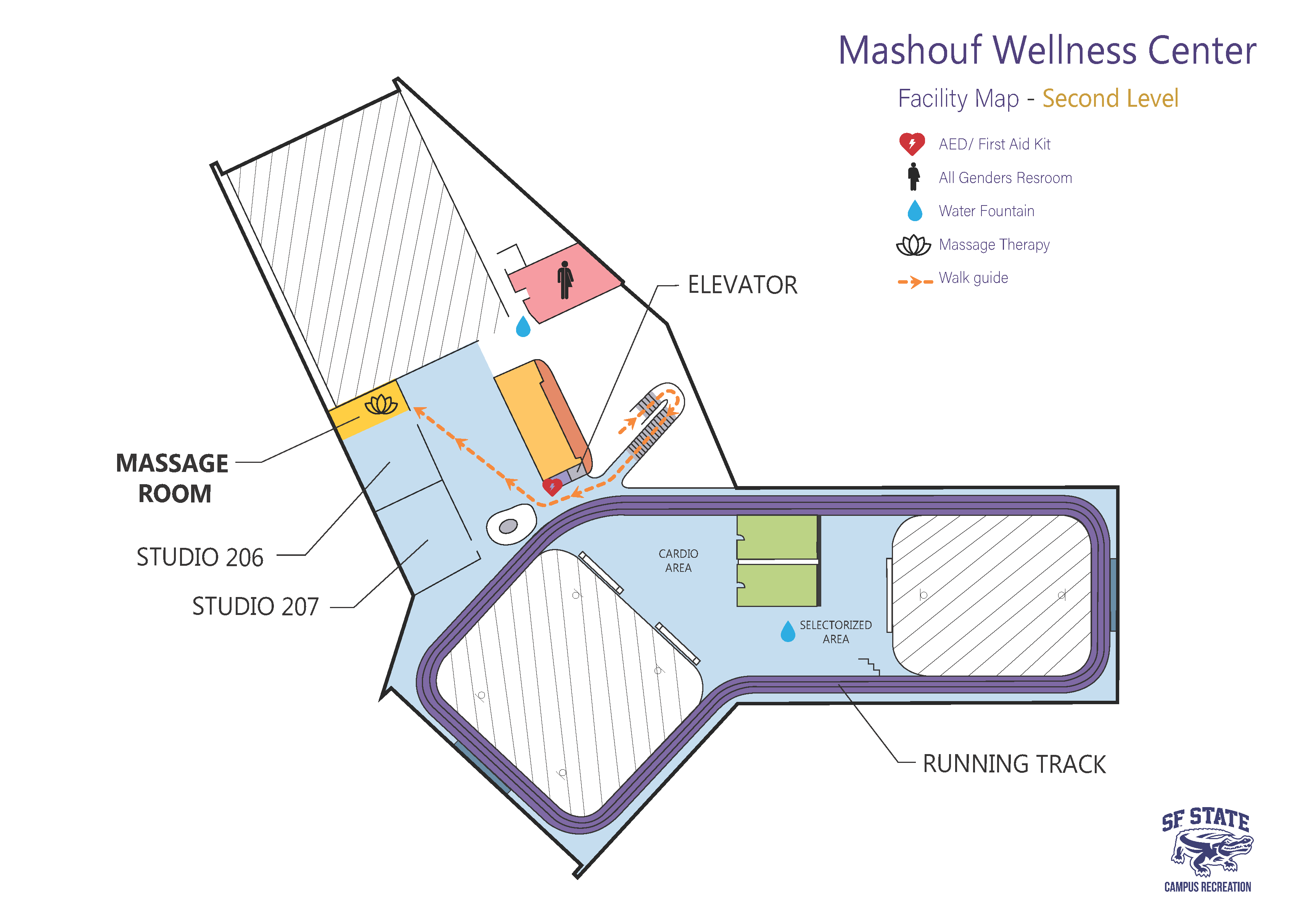 Any questions, comments or concerns can be directed to our Wellness Student Managers at crdwell@mail.sfsu.edu or to our Fitness and Wellness Coordinator, Sabrina Sousa at ssousa@sfsu.edu