Campus Recreation is committed to ensuring the health and safety of our SF State Gator community because we care about you. Thus, we remain accountable to guidelines from the Centers for Disease Control (CDC) and Cal/OSHA. As new information becomes available, based on scientific data and events, we will update our plans in response. Take proactive steps to help prevent the spread of COVID-19 and protect one another to ensure a healthy and safe campus experience. Encourage those around you to embrace the following practical and effective measures. SF State follows public health guidance put forth by Cal/OSHA and the Centers for Disease Control (CDC). For more information regarding Campus wide COVID-19 policies, visit our Campus Comeback Information Page.
Vaccine Policy
Vaccination required:
NEW The California State University has announced the intent to require faculty, staff and students to receive a vaccine booster shot to be fully immunized against SARS-CoV-2, the virus that causes COVID-19 by February 28, 2022, or six months after an individual received the final dose of the original vaccination, whichever is later. 
In compliance with San Francisco Department of Public Health, proof of Full Vaccination is required indoors when visiting the Mashouf Wellness Center. Please bring proof of full Vaccination with a school or government issued identification card. "Green Dots" are no longer required, and members only need to show proof once. Anyone with Medical or Religious exemptions are NOT able to enter the facility.
Valid forms of Vaccination proof:
Original, copy or picture of your CDC issued vaccination record
Documentation from a healthcare provider
Personal digital COVID-19 vaccine record issued by the State of California. 
Similar documentation issued by another State, local, or foreign government
Want a digital vaccination record? Get one here https://myvaccinerecord.cdph.ca.gov/
Mask Policy
At this time, all students, faculty and staff who have face-to-face contact must wear a multi-layered face covering or preferably a KN95 Mask at all times when inside campus buildings.  
Should you require multi-layered face covering or KN95 Mask, please visit Environment, Health, and Safety (EHS), the centralized distribution center for multi-layered face coverings.  
A multi-layered face covering means a surgical mask, a medical procedure mask, a respirator worn voluntarily or a tightly woven fabric or non-woven material of at least two layers. A face covering has no visible holes or openings and must cover the nose and mouth. A face covering does not include a scarf, ski mask, balaclava, bandana, turtleneck, collar or single layer of fabric. 
For individuals with medical documentation stating they cannot wear a multi-layered face covering, please contact Disability Programs & Resource Center (DPRC) to discuss reasonable accommodations. In addition, SF State will offer alternative services where possible in order to meet the needs of the individual and protect the health and safety of the campus community. 
We are excited to have you back Gators!
Latest Campus Comeback News Updates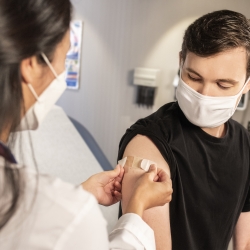 NEW: COVID-19 booster appointments are available on campus in January.
COVID-19 Booster Vaccinations are available!
January 11, 25, 26, and 27

9 a.m. to 3 p.m. at Jack Adams Hall
Appointments are required for January 25 and 26. In addition to the available appointment times, a limited number of walk-ins will be accommodated on January 11 and 27. Both Pfizer and Moderna boosters will be available. Current CDC guidance is that everyone 18 years or older should get a COVID-19 booster if it has been five months since they completed their first vaccine series in the case of Moderna and Pfizer or two months after receiving Johnson & Johnson's Janssen vaccine.
If you cannot attend one of the days when vaccines will be available on campus, visit vaccines.gov to find a booster vaccine appointment near you. 
Please print and complete sections A, B, C and D of the Vaccine Administration Record (VAR) prior to your appointment. Visit the Walgreens website to make an appointment.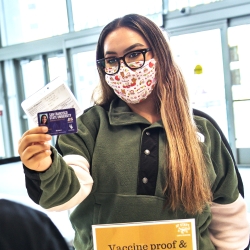 Upload Your Proof of Vaccination Spring 2022 Requirements
STUDENTS
EMPLOYEES
Upload your proof of vaccination to MyHealth vaccine verification system.
California residents who have lost or misplaced their COVID-19 vaccination record card may also use an electronic version which can be retrieved from the Digital COVID-19 Vaccine Record website.
Please note, the planning, guidance and information reflected on this website are subject to change in response to local public health conditions and local, state and federal guidelines concerning and related to COVID-19. Last revised 01/11/22.