Campus Recreation is committed to ensuring the health and safety of our SF State Gator community because we care about you. Thus, we remain accountable to guidelines from the Centers for Disease Control (CDC) and Cal/OSHA. As new information becomes available, based on scientific data and events, we will update our plans in response. Take proactive steps to help prevent the spread of COVID-19 and protect one another to ensure a healthy and safe campus experience. Encourage those around you to embrace the following practical and effective measures. SF State follows public health guidance put forth by Cal/OSHA and the Centers for Disease Control (CDC).
Facility & Membership Information
We are limiting access to only Students, Faculty, Staff and Alumni Association members. 
Guest/day passes are now available.
Non-student, staff and alumni member spectators for all sporting events are not permitted in the facility.
To help maintain capacity limits members enter the facility will also need to swipe ID or scan phone to exit. (At this time, there is not a capacity limit).
Upcoming Changes at the Mashouf Wellness Center:
Unalignment with SF State, and County Guild lines the Mashouf Wellness center has updated their mask policies.
Fully Vaccinated Members
All fully vaccinated members do not require a mask inside our building. Active Members (Students, Faculty and Staff) may provide proof of their full COVID-19 vaccination status through the currently accepted documents proving they are fully vaccinated. This is to be only shown once, and vaccination approved status is noted in their membership for future re-entry. Currently accepted forms of proof include: 
Original copy or picture of your CDC issued vaccination record
Documentation from a healthcare provider
Personal digital COVID-19 vaccine record issued by the State of California (you can apply for one here: https://myvaccinerecord.cdph.ca.gov/)
Similar documentation issued by another state, local or foreign government 
Vaccine-Exempt Members (Approved Medical or Religious Exemption)
Mask indoor is mandatory for all Non vaccinated/vaccine exempt members.
Note: We will continue to update out policies per SF State, County, & CDC recommendations.
Active members who have an approved medical or religious exemption can also access the Mashouf Wellness Center by providing their current verification that they have completed their weekly testing. One or more of the following must be shown each time they enter the facility:
Weekly On-campus testing with Negative result from past week
         - OR - 
Have attestation on file through Qualtrics link form the past week

Student Name and ID Number
Tested positive within the past 90 days (positive test excuses them from campus testing for 90 days) 
They tested off-campus with a negative result within the past week
They understand that if COVID test was received with a positive result, they should report the case to campus using the "Report a Case" form on the Campus Comeback site, and they should follow isolation protocols and not come to campus until cleared to do so.
By submitting, they attest that they have answered these questions accurately. 
Exempt members will also have the option of filling out the attestation at the point of entry. 
Mask Policy
All fully vaccinated members do not require a mask inside our building. Mask indoor is mandatory for all Non vaccinated/vaccine exempt members.
We are excited to have you back Gators!
Latest Campus Comeback News Updates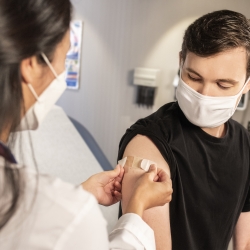 Need to get Vaccinated or Boosted?
Find a Vaccine Near You
If you still need to get vaccinated or boosted, visit the Vaccines website to find and schedule your next appointment. Vaccines are continuing to be shipped nationwide and locations offering vaccine are being updated every day. If you do not find a convenient location, check back later or contact your health care provider or local health department.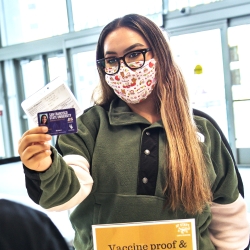 Upload Your Proof of Vaccination Requirements
STUDENTS
EMPLOYEES
Upload your proof of vaccination to MyHealth vaccine verification system.
California residents who have lost or misplaced their COVID-19 vaccination record card may also use an electronic version which can be retrieved from the Digital COVID-19 Vaccine Record website.
Please note, the planning, guidance and information reflected on this website are subject to change in response to local public health conditions and local, state and federal guidelines concerning and related to COVID-19. Last revised 09/06/22.